XZ5000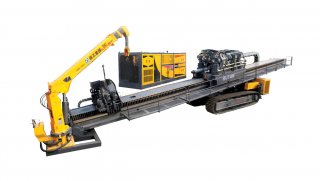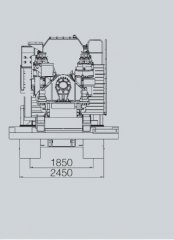 XZ5000 horizontal directional drilling rig with the self propelled chassis adopts various advanced control technologies such as closed hydraulic system, electro-hydraulic proportional control and load sensing control as well as the proprietary technologies of the company, and its main performance parameters and control technique have reached the international advanced level. The main components of hydraulic system, electric system and transmission system are of top-grade domestic and international brand, and high reliability.
Performance Characteristics
For the standard and option configuration of engine, the originally imported VOLVO EFI engine is selected, its fuel consumption rate is low, and the power of the twin engine is up to 788KW. It ensures that drilling rig can be used under various complicated geological conditions and can finish laying work. Single engine is capable of finishing all actions of the whole machine.

The Hydraulic System adopts many advanced control technologies such as the closed energy-saving circuit, load sensing control and electro-hydraulic proportional control are adopted. The main components are imported products which are efficient, energy-saving and reliable.

Self propelled crawler chassis has high traffic ability, making it convenient for transportation transition.

The hydraulic system is equipped with high pressure filter of mass flow and high precision, ensuring a long life of drilling rig.

The unit head adopts Rack-and-pinion push-pull, stepless speed regulating with two gears, making the operation more stable and efficient.

High-strength steel welded drill stand is suitable for drill rods of different lengths. Drill stand adopts hydro-cylinder push pull for sliding to facilitate adjustment of angle construction.

Vehicle mounted crane of 5T is optional, convenience for field service.

Vice camera is a standard configuration. The operator can get a good vision when dismounting the drilling rod, making it convenient for operation.

The clamp force of the vice is adjustable to more drill rods.

Slurry recovery device is provided, keeping the site tidy and preventing environment from being polluted.

Slurry swivel joint of large diameter has a higher slurry flow rate.

Rotation and push-pull adopt digital remote pressure adjustment technology making it convenient and efficient for pressure setting and adjustment.

For the cosy working environment of driller operator, we avails high-end operating room and cold and hear air conditioner for driller.
PARAMETER
发动机型号

Engine model

Volvo

发动机额定功率

Engine rated power

Push-Pull Type

Rack & Pinion

最大回拖/进给力

Max. Pull-push strength

kN

5000/5000

动力头最大扭

Max.torque of power head

N.m

160000

动力头转速

Spindle speed

r/min

0-90

Travelling speed of power head

m/min

0-28

最大回扩孔直径

Max. Backreaming diameter

mm

2000

钻杆长度(单根)

Drilling rod length (single)

m

9.6

钻杆直径

Drilling rod diameter

mm

168/194

钻进角度

Drilling angle

°

8~16

泥浆最大流量

Mud flow rate(max)

L/min

3000

泥浆最大压力

Mud pressure(max)

bar

200

整机质量

Overall weight

kg

55000

长×宽×高

Dimension( L×W×H)

mm

18500×2500×3600