XZ320D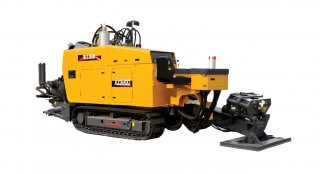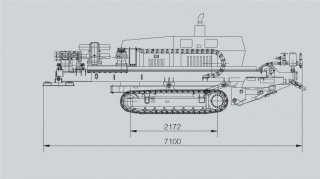 XZ320D horizontal directional drilling rig with the integral and aesthetic design adopts various advanced control technologies and the proprietary technologies of the company, and its main performance parameters and control technique have reached the international advanced level. The main components of hydraulic system, electrical system and transmission system are of top-grade domestic and international brand, and high reliability.
Technical Characteristics:
High power: 160/140 kW high horsepower engine is adopted to ensure that the drilling rig can complete pipe laying operations under all kinds of complicated geological conditions.

Two speed unit head: the unit head operates at low speed during drilling and pullback to ensure smooth construction; and it can slide at an accelerating speed to reduce auxiliary time and improve work efficiency when the removable drill rod reciprocates with no-load.

Steel crawler equipped with Rubber crawler plate: it has minimal impact on roads, lawns and scenic spots.

Floating-type vise: it applies the proprietary floating-type vise of the company, which can effectively extend the service life of the drill rod.

Rotatable control console: it widens the visual field and reduces the fatigue of the operator to make the drilling rig operation more simple and comfortable.

Disassembling device for auxiliary drill rod: it can not only reduce auxiliary working time and improve the work efficiency of the overall unit, but also relieve operator's labor intensity.

Convenient maintenance: the engine maintenance and replacement of filter element for the hydraulic system can be conducted easily due to the rational design of the engine hood.
PARAMETER
发动机型号

Engine model

东风康明斯

CUMMINS

发动机额定功率

Engine rated power

Push-Pull Type

Rack & Pinion

最大回拖/进给力

Max. Pull-push strength

kN

320/320

动力头最大扭

Max.torque of power head

N.m

12000

动力头转速

Spindle speed

r/min

0~140

Travelling speed of power head

m/min

0-20

最大回扩孔直径

Max. Backreaming diameter

mm

800

钻杆长度(单根)

Drilling rod length (single)

m

3

钻杆直径

Drilling rod diameter

mm

73

钻进角度

Drilling angle

°

10~20

泥浆最大流量

Mud flow rate(max)

L/min

320

泥浆最大压力

Mud pressure(max)

bar

80

整机质量

Overall weight

kg

11500

长×宽×高

Dimension( L×W×H)

mm

6500×2250×2450