XZ1500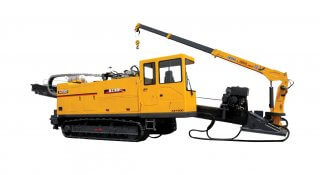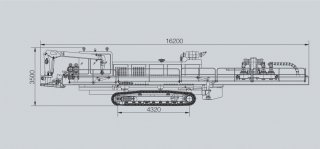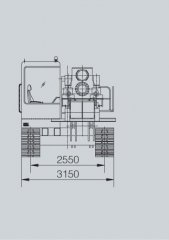 XZ1500 horizontal directional drilling rig with the integral and self-loading design, adopts various advanced control technologies such as closed energy saving circuit, electro-hydraulic proportional control and load sensing control as well as the proprietary technologies of the company, and its main performance parameters and control technique have reached the international advanced level. The main components are of top-grade domestic and international brand, and high reliability.
Performance Characteristics
The engine is a six cylinder water cooled turbocharged Cummins engine with large power reserve, enabling the drilling rig to complete pipeline laying work under various complicated geological conditions.

The Hydraulic System adopts many advanced control technologies such as the closed energy-saving circuit, load sensing control and electro-hydraulic proportional control are adopted. The main components are imported products which are efficient, energy-saving and reliable.

The unit head adopts Rack-and-pinion push-pull, stepless speed regulating with two gears, making the operation more stable and efficient.

High-strength drill stand is suitable for drill rods of different lengths, and cylinder driven sliding drill stand facilitates the adjustment of angle for construction.

Vice and unit head double-floating technologies are adopted with effectively reduce rear of drill rod thread and extend the service life of the frill rod. The shackle is efficient and reliable.
PARAMETER
发动机型号

Engine model

东风康明斯

CUMMINS

发动机额定功率

Engine rated power

Push-Pull Type

Rack & Pinion

最大回拖/进给力

Max. Pull-push strength

kN

1500/1500

动力头最大扭

Max.torque of power head

N.m

60000

动力头转速

Spindle speed

r/min

0~80

Travelling speed of power head

m/min

0-23

最大回扩孔直径

Max. Backreaming diameter

mm

1200

钻杆长度(单根)

Drilling rod length (single)

m

9.6

钻杆直径

Drilling rod diameter

mm

127

钻进角度

Drilling angle

°

8-18

泥浆最大流量

Mud flow rate(max)

L/min

1200

泥浆最大压力

Mud pressure(max)

bar

200

整机质量

Overall weight

kg

41000

长×宽×高

Dimension( L×W×H)

mm

16200×3150×3500