XR220D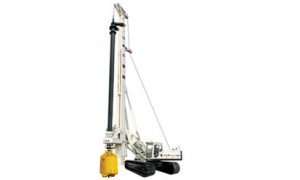 FEATURE
- Adopt single rope main winch, effectively solving the wear problem of the steel wire rope and improving its service life.
– Install the infrared camera, which can observe the service condition of the main winch steel wirerope in the cab day and night.
– Many configurations can be installed according to the customers' requirements (such as: landing leg cylinder, automatic slew).
– Adopt imported Cummins electronic control turbocharging engine, meeting the Europe III emission standard. It is energy-efficient and environmental friendly, and has strong power.
– The hydraulic system adopts limiting power control and positive flow control, which improves the efficiency of the hydraulic system and saves more energy.
– The patent parallelogram variable structure realizes the large-scope working area. The mast is designed to be the box-type structure, which has high intensity and rigidity, effectively ensuring the drilling preciseness.
– It can be attached with 5 drill rods. The maximum drilling depth can reach 67.5m.
PARAMETER
Model

 
 
XR220D
Engine

Model

CUMMINS QSL-325

Rated power

kW

242

Drill unit

Max. output torque

kN.m

220

Rotary speed

r/min

7~22

Max. drilling diameter

mm

F2000

Max. drilling depth

m

Standard configuration67.5(friction drag×5) optional configuration53(lock×4)

Pressurized cylinder

Max.pressure

kN

200

Max. hoisting power

kN

200

Max. stroke

m

5

Main winch

Max. hoisting power

kN

230

Max. hoisting speed

m/min

70

Auxiliary winch

Max. hoisting power

kN

80

Max. hoisting speed

m/min

60

Mast obliquity sidewise/forwards/backwards

±4°/5°/15°

Chassis

Max. travel speed

km/h

1.5

Max. gradeability

%

35

Min. ground clearance

mm

468

Track shoe width

mm

800

Max. track width

mm

3500~4400

Hydraulic system

Working pressure

Mpa

32

Overall operating weight

t

70

Dimension

Working condition

mm

10260×4400×22120

Transportation condition

mm

16355×3500